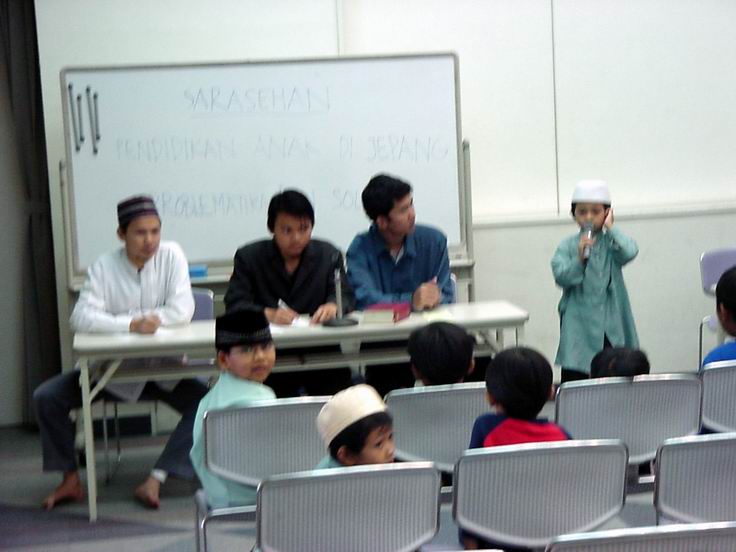 Children Education
in Japan
Toyonaka International Center, 19 May 2002
Click here for Details



The True Face of Islam
Symposium
Toyonaka International Center, 10 November 2002
Click here for Details


The majority of Muslims in Osaka are living with their families forming a complement core of an Islamic society, which is growing day by day. Osaka Muslim Association partakes an effective role to make such community more tied, harmonious and committed to preserve an Islamic identity. OMA is going to organize a couple of activities to support such a crucial and faithful idea.
Cultural Activities:

A monthly seminar or forum is an important issue to discuss some topics concerning our life challenges in Japan, our different cultures as well as the current events in our Islamic world. In almost cases, these seminars will be presented by the members themselves. However, we may also intend to invite speakers to exchange our views and/ or extend our narrations.

It is also essential to go through the raising up of the Islamic library that contains a lot of books in all areas of Islamic knowledge ( Qur'an, Tafsir, Hadith, Seerah, Fiqh .. etc). In addition, there are several audio and vedio tapes about Islamic concepts.
Social Activities:

OMA is going to establish some social activities wishing to be beneficial for gathering all Muslims in one society, strengthen their relations within an Islamic environment. We aim to motivate OMA members for keeping our community in Osaka more tied eliminating isolationist tendencies that may damage any society.
One of OMA goals is the celebration of our religious festivals such as the Eid in addition to our unique Islamic events. It is the best way to remind our children with the spirits and aim of such events. We are also going to call for the collective breakfasting during Ramadan " Iftar Gathering Parties ". Welcoming the new comers and affording them with the most necessary information upon their arrivals. Off sure, they need to know: Where to pray? How to get Halal food? Where to stay? How to use all traffic network facilities rather than other notifications and eligibilities.
Lastly, OMA members often raise up their hands to cover the urgent needs of some Muslim brothers and sisters who are living in Osaka.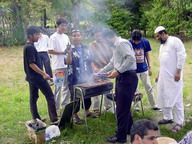 Gathering " Barbeque "
Kita Senri Park
9 June 2002
Click here for Details





Social Day
Osaka University
8 June 2003
Click here for Details